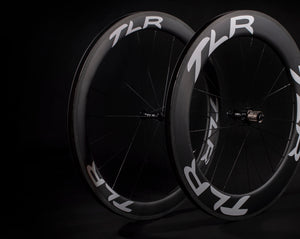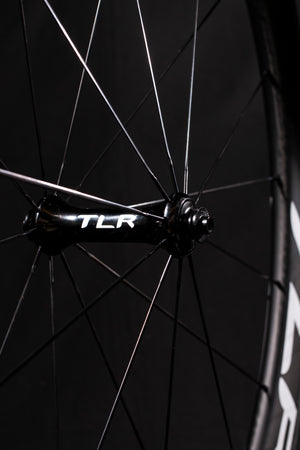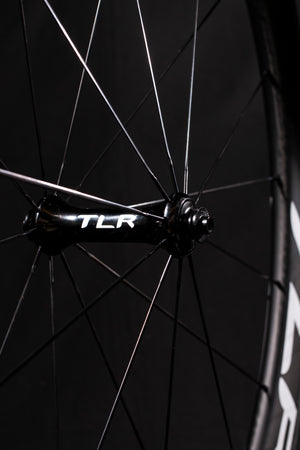 AERO 55
The TLR Aero 55's are for road riders who want to go a little deeper with their carbon wheels and possibly for a small triathlete worried about going too deep on their TT bike
(If you are a small person who wants a setup for a TT bike talk to us about matching a 45mm front with a 55mm rear for a custom TT Combo.)

AERO prices are reduced through the use of TLR branded Bitex hubs.  For an inexpensive hub the Bitex model is light, reliable and fast - so a good choice for a lower-priced wheel.
AERO wheels come in either rim brake or disc brake configuration.
If you are using rim brakes, the high-temperature brake track and high-performance Swissstop brake pads stop you safely and don't damage your wheels.
AERO series carbon clincher race wheels are 26mm wide.
The 26mm wheel gives the option of fitting a 23mm, 25mm or 28mm tyre with each size having its own advantages.

NOTE. Some older bike frames have problems fitting a 26mm wheel so please check your frame before proceeding to purchase. 
Description & Features
Rims:
700c 55mm, clincher, 26mm wide rim.
Brake track:
High-temperature brake surface. (for rim brake model)

Hubs:
TLR stencilled "Bitex" hub, black. (257g/pair)
Cassette Body: 
Shimano 8.9.10. 11sp. / Campagnolo 9.10.11sp.  (12-speed available special order)

Spokes:
Sapim CX-ray, black.
Nipples:
Sapim Sils (black)
Lace:
Standard, radial front, radial rear non-drive side.2X drive side.
Weight:
Rear 818g, Front 675g, Total = 1493g  +/-20g,
Additional parts:

1 set of Titanium skewers, (Rim brake model)
2 pairs of high-performance Swissstop brake pads. (Rim brake model)
Rim tape
Cluster spacer

Note:
All prices are in Australian dollars.
Shipping costs are displayed during checkout with a guide located in the Shipping & Returns link at the bottom of the page.